Stylish Sportswear That Actually Makes You Want to Work Out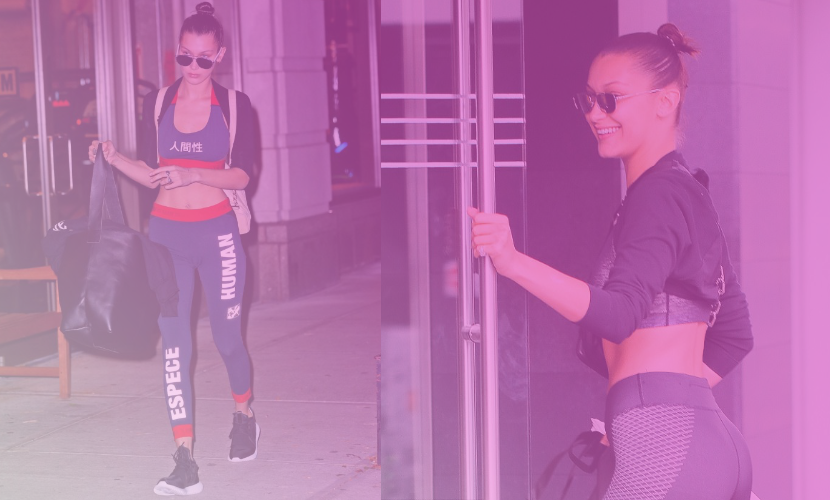 Now that Christmas is over and done with, its time to lose all that stuffed turkey induced flab. To get you good and ready for all the spinning classes you have booked in a heady moment of new-year-new-me passion, you'll need some stylish sportswear. Thankfully, there are a lot of ideas for picture-perfect outfits, basically inspired by chic and sporty supermodels like Gigi and Bella Hadid, Stella Maxwell and to be honest, most of the Victoria Secret Angels
Reminiscent of the 90s look, due to an abundance of crop tops, branded joggers, and retro trainers,it looks better if you can wear the same color head to toe. Bella goes with all red while Kendall is a huge fan of all white outfits.
Neon is back in vogue, so a little smattering of color in your outfit won't be out of place. Plus, statements leggings are really cool if you want that LA look.
There's a lot of layering too, which is ideal for winter, so ensure you wear a crossover knitted cardi over a pastel crop top for yoga or barre, while a camo long-sleeved stretch top is good for running.
The point is that you should rock an outfit which you can comfortably wear straight from the gym to lunch without bothering to change because you look well put together. Then again, your outfit needs to serve you at the gym too. You could look all good and stylish, but if the outfit isn't' lightweight and breathable then you could easily get overheated and sweaty. Good for you though, as new technology ensure you can get dedicated and high street sportswear that will keep you cool while you exercise- whether you are doing yoga, spinning, pilates, HIIT or barre. Jimmie Foxx Jersey
Aerie's Brand New Swim Campaign goes personal: Features Aly Raisman and mom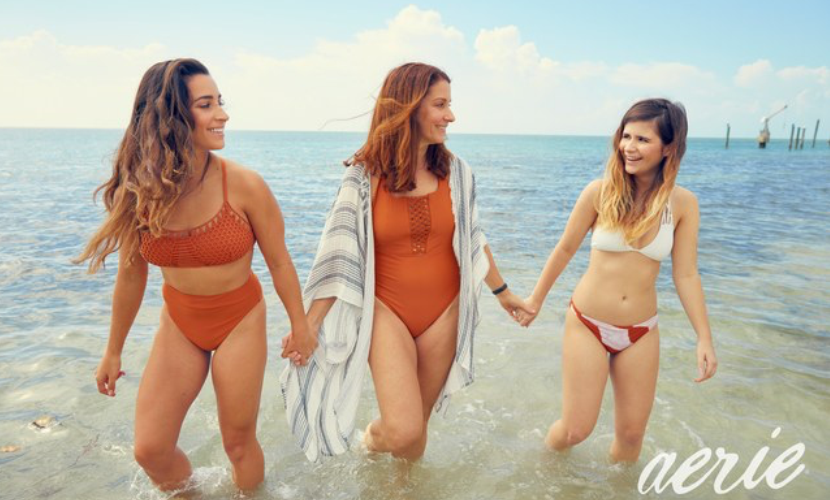 It's to be expected that Aerie would showcase some its #AerieReal Role Models—Aly Raisman, Iskra Lawrence, and Yara Shahidi—in the latest swim campaign. What we didn't see coming (and very excited about) is that they will appear alongside their mothers in the new lookbook in a move as unique as it's deeply personal.
Aerie asked its model to bring their mothers along with them for the shoot and got them to pose sweetly and intimately in the brands swim and apparel collections – all on mothers day no less.
Lawrence appeared together with her mom, Wilma and  Shahidi too with her mom, Keri. Raisman, took it up a notch higher, posing with her younger sister to make a truly family affair.
"I thought they both did such a great job of just being confident in their own skin," the 23-year-old Olympian tells Glamour. "The whole day was all about having fun rather than what we looked like, as every day should be!"
"The campaign messaging is all about being confident in your own skin and celebrating the influence your role models have played in your life, so it was extra meaningful to have them involved," Raisman adds.
Raisman credits her mom with being her strength and a source of inspiration especially in trying times like when she was testifying against Larry Nassar, the shamed former USA Gymnastics doctor earlier this year.
"My mom came with me to the sentencing in court because I wanted her there," the 23-year-old recalls. "She rarely travels with me unless I feel that I really want her there for support. Having my mom there for me makes me feel so much better—she always has my back. People will not always support you along the way, so having my mom there [in court] meant a lot to me."
Raisman's mother also motivated the athlete to develop her voice and use her platform to inspire change. "My mom always told me that character is most important," she says. "When I was younger, she always said she'd rather me have character and be kind than be first place—this especially rings true to what's going on right now…. She always encourages me to speak up when something isn't right and is also speaking up publicly as well. I'm proud and appreciative that my mom is so passionate about fixing this disaster that happened. She is helping us put the pieces together."
"Gold medals don't make abuse OK—nothing does," Raisman continues. "Abuse is never OK. It's not easy speaking up, but it's so important because no one should ever be treated badly, ever. Abuse should never be tolerated."
Raisman's feels obliged to speak out on behalf of her sister Chloe, who is about to go to college, and her peers. "It's really important to me to try and teach her lessons I've learned along the way [by speaking out], in hopes that it helps her as well," she says. "[Chloe] inspires me to not only speak up for the gymnastics community but also for all the college students who do not feel heard."
In her continued advocacy for victims of sexual assault, Raisman, through Aerie, has designed a one-piece swimsuit that gives back to Darkness to Light, a non-profit organization that fights child abuse. "Everyone is a survivor of something—we're all battling something," she says. "Let's talk about it. It's OK to not be OK." With this alliance, she is drawing attention to some of the resources available through Darkness to Light, which includes a free course called #FliptheSwitch, which teaches adults how to protect children in sports from sexual abuse. (the course completion certificate is signed by Raisman herself.) "Everyone can make a difference, and it starts with you being a leader in your community and taking the much-needed initiative," she adds.
"Aerie supports the survivors and me and has done so from the very beginning," Raisman says. "It's hard to find brands that genuinely care, but Aerie is one of the few and is helping me advocate for change…. Aerie constantly encourages us to be the best version of ourselves and not compare ourselves to others."
Since last year, Raisman is becoming more aware of her considerable platform and how she can employ it to drive change. "Using your voice to speak up for the right thing is so important—it's not easy, and people may not agree with it, but that's why change is so desperately needed," she says. There remains a lot to be done: "Sexual abuse is everywhere, no matter the industry. The 'Me Too' movement is far from over—we're just getting started by using our voices." Rickard Rakell Jersey
Shelby Harris Jersey